DESTINATIONS
---
Our current preferred route has been chosen for the incredible scenic aerial experience.
---
---
The Okavango Delta resembles a gigantic starburst blossom pressed onto the landscape of northern Botswana. It is one of the planet's greatest wetlands, a vast splash of life-nurturing channels and lagoons and seasonal ponds amid a severely dry region of the continent.
The Delta was named as one of the Seven Natural Wonders of Africa. On 22 June 2014, the Okavango Delta became the 1000th site to be officially inscribed on the UNESCO World Heritage List. The Okavango is produced by seasonal flooding, peaking between June and August. During Botswana's dry winter months the delta swells to three times its size, attracting animals from kilometres around and creating one of Africa's greatest concentrations of wildlife.
The Etosha Pan is an extremely flat salt pan in northern Namibia, covering an area of approximately 1,900 square miles. This enormous expanse of salt, glimmering green in the dry season, is the largest of its kind in Africa.
The park has one of the largest accumulations of big-game species in the world, including lions, elephants, rhinoceros, elands, zebras, and springbok. Abundant bird life includes flamingos, vultures, hawks, eagles, ostriches, guinea fowl, and geese.
Stretching 500 kilometers between the old German colonial town of Swakopmund and the Angolan border, the coast is virtually uninhabited and thoroughly untamed. The Bushmen of the Namibian interior called the region "The Land God Made in Anger", while Portuguese sailors once referred to it as "The Gates of Hell".
The name Skeleton Coast derived most probably from the huge numbers of stranded whales that lost their life here. Numerous ships have stranded at the Skeleton Coast thanks to the thick fog, the rough sea, unpredictable currents and stormy winds.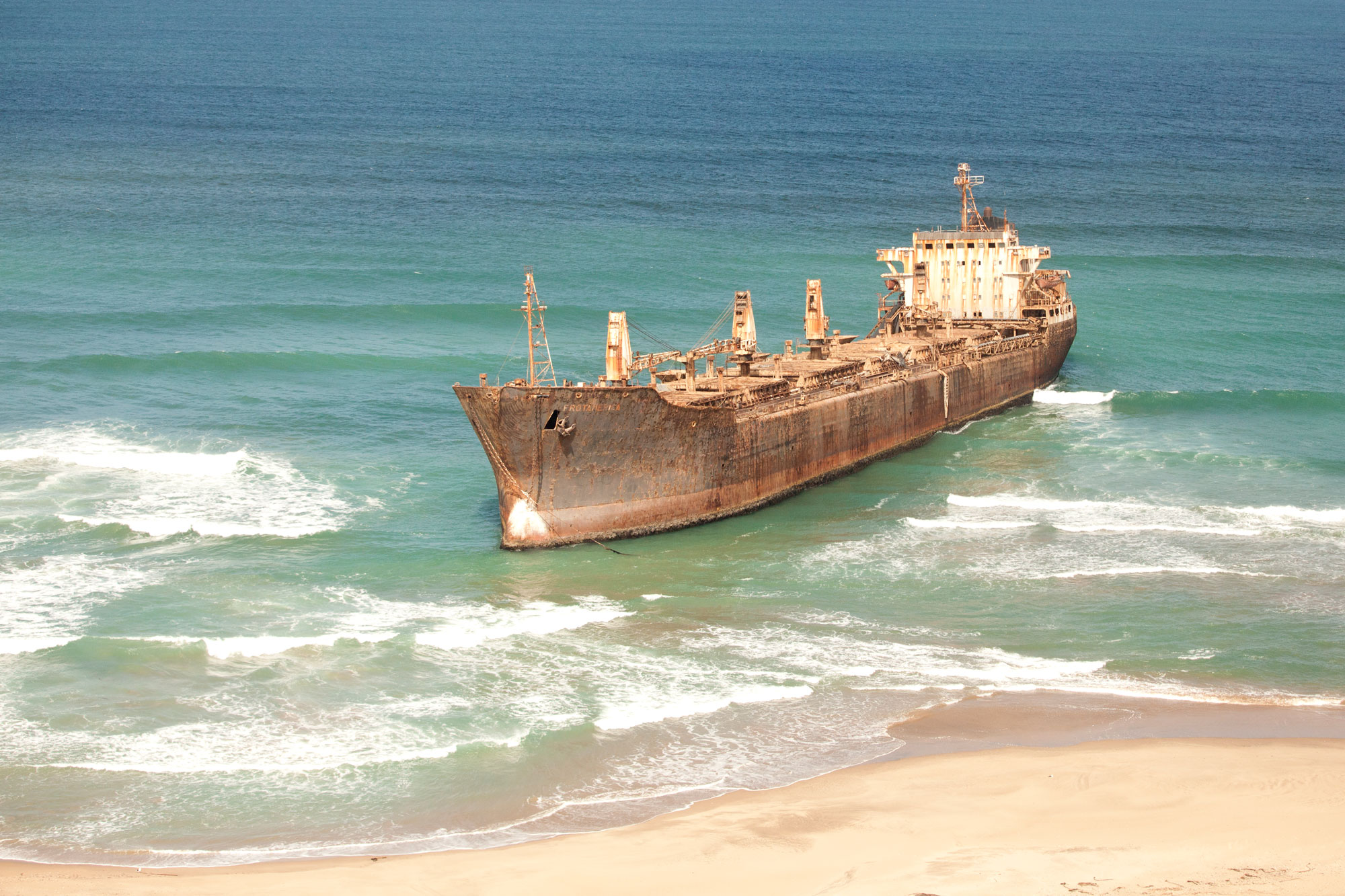 The Namib Desert is a coastal desert in southern Africa. The Namib may be the oldest desert in the world and contains some of the world's driest regions, with only western South America's Atacama Desert to challenge it for age and aridity benchmarks. The sand dunes, some of which are 300 metres (980 ft) high and span 32 kilometres (20 mi) long, are the second largest in the world.
Sossusvlei is a clay pan, of roughly elliptical shape, covered in a crust of salt-rich sand. It is surrounded by high orange dunes, and is located in the southern part of the Namib Desert, in the Namib-Naukluft National Park, the largest conservation area in Africa.
Close to Sossusvlei, Deadvlei is a clay pan characterized by dark, dead camel thorn trees contrasted against the white pan floor. The trees are estimated to be approximately 900 years old, however they have not decomposed due to the dry climate. Deadvlei is a paradise for photographers as the contrast between the pitch-black trees and bleached-white pans, and the rusty-red dunes and deep blue sky make for incredible images.